Masters of Digital 2023
Event location
5 Rue du Musée, Brussels, Belgium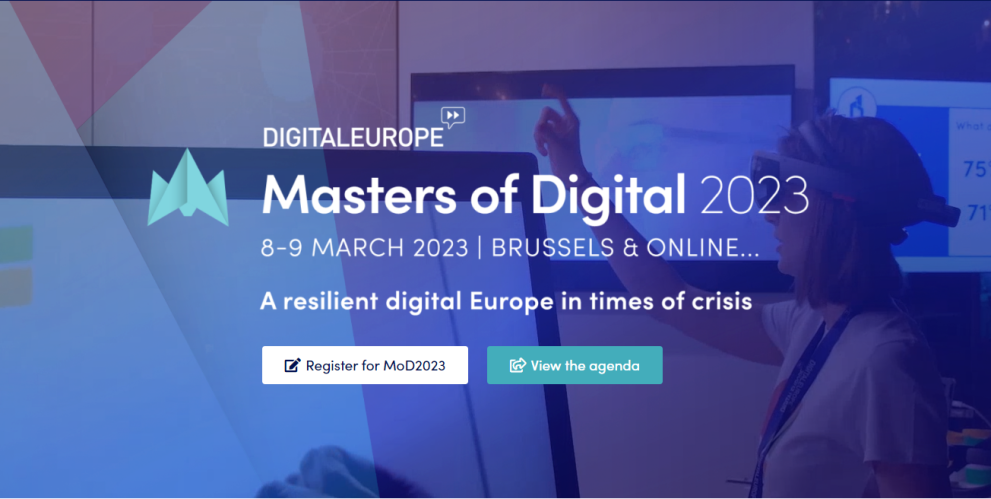 DIGITALEUROPE is organising on the 8th (from 8:30 AM to 4:45 PM) and 9th (from 8:30 AM to 1:30 PM) March 2023, the Master of Digital 2023 (in person and online), for two days of networking, high-level keynote speeches and topical panel discussions, with a focus on Europe's digital resilience.
What will you hear at MoD2023?
As our continent continues to grapple with the aftershocks of the COVID pandemic, Russia's war in Ukraine has put even more strain on the world economy and European unity. Meanwhile, the searing heat of summer 2022 has shown us the consequences of inaction on the climate.
Digital technologies can play a central role in tackling these many interlinked crises. The next two years leading up to the European elections in 2024 will be a critical time to make Europe's economy more innovative while harnessing digital's potential to drive down emissions.
It is also crucial to leverage the power of technology in bolstering our digital resilience against hybrid threats, together with like-minded partners. The time to act is now.
During the event, you can follow Digital Deep Dives parallel sessions on the Cyber Resilience Act, the European Health Data Space and the Year of Skills.
Read the full agenda here.
Discover more by reading the Masters of Digital 2022 event report.
If you are interested in finding out more about the event, please contact Kivanc Akil, Associate Director for Events & Executive Coordination, DIGITALEUROPE: mastersofdigital@digitaleurope.org
© DIGITALEUROPE
Event Details
Target audience
Digital skills for the labour force.
Digital skills for ICT professionals and other digital experts.
Digital skills in education.
Digital technology / specialisation
Geographic scope - Country
Austria
Belgium
Bulgaria
Cyprus
Romania
Slovenia
Croatia
Czech republic
Denmark
Estonia
Finland
France
Germany
Greece
Hungary
Italy
Ireland
Malta
Latvia
Lithuania
Luxembourg
Netherlands
Portugal
Poland
Sweden
Spain
Slovakia
Industry - field of education and training
Generic programmes and qualifications not further defined
Geographical sphere
National initiative