Partner for Digital Skills Networking Day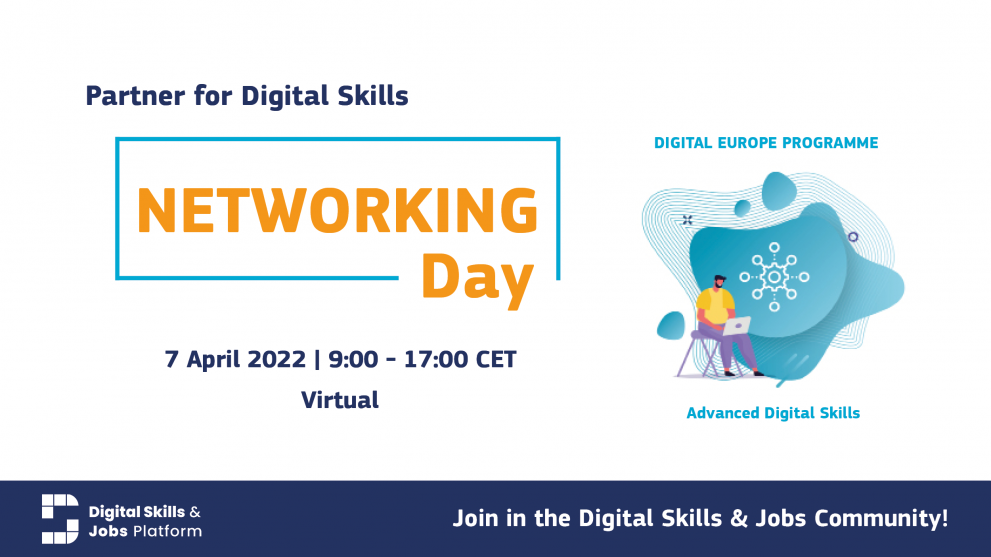 Are you a provider of short-term training courses in advanced digital technologies such as AI, Cybersecurity, or the Internet of Things? Are you a business or professional organisation, who works directly with SMEs, or an organisation or company specialising in key digital technologies?
You can now apply for up to €3 million of EU funding support to develop short training courses in advanced digital skills under the Digital Europe Programme. The Advanced Digital Skills Short term training courses call aims at increasing the array of high-quality short-term trainings for the workforce, focusing particularly on SMEs. The call for proposals will close on 17 May 2022 so it's time to start work on yours and submit it before closing.   
Login to our Online Networking Day!
In order to support your search for partners and preparing your proposal, the Digital Skills and Jobs Platform invites you to an Online Networking Day on Thursday 7 April 2022, from 9:00am until 17:00pm CET. Throughout the event, you will be able to participate in live online networking to promote your organisation and to find potential partners from all across Europe. 
The Digital Skills and Jobs Platform have set up a Partner for Digital Skills Networking Group to help you find consortia partners, with a dedicated thread of discussion on this specific Call. There are 4 easy steps to find partners:
Register and login to the Platform via your EU Login account. 
Present yourself and your organisation in a comment on the dedicated Discussion Thread. 
Message other group members via Private Messaging and invite them to partner.
Participants will also have the chance to talk to the European Commission's Digital Skills Team live on Facebook at 9:30 CET and on Twitter at 11:45 CET.
Who should attend? 
Organisations from the following categories are encouraged to participate in this event:
Education and Training providers (Training companies, VET providers, HEIs, and companies who providing training.)
Business and Professional Organisations (EU, National or Regional Level). 
Digital Innovation Hubs, Clusters, innovation and excellence centres in digital technologies, and other alliances active in key digital technologies.  
SMEs who can contribute to the training programme design and delivery, provide specialist expertise etc.
Do I need to register? 
Registration for the event is not required, but it would be advised to create your account on the Platform and join the Partner for Digital Skills Networking Group in advance. To receive updates, login to the platform and sign up for the Digital Skills and Jobs Digest and keep an eye on our @DigitalSkillsEU Twitter and Facebook accounts. 
 
© Digital Skills & Jobs Platform, 2022
Event Details
Target audience
Digital skills for the labour force.
Digital skills for ICT professionals and other digital experts.
Digital skills in education.
Digital skills for all
Digital technology / specialisation
Geographic scope - Country
Austria
Belgium
Bulgaria
Cyprus
Romania
Slovenia
Croatia
Czech republic
Denmark
Estonia
Finland
France
Germany
Greece
Hungary
Italy
Ireland
Malta
Latvia
Lithuania
Luxembourg
Netherlands
Portugal
Poland
Sweden
Spain
Slovakia
Industry - field of education and training
Generic programmes and qualifications not further defined
Geographical sphere
EU institutional initiative