UNESCO Global dialogue: online gendered disinformation
Event location
7 Place de Fontenoy, 75007 Paris, France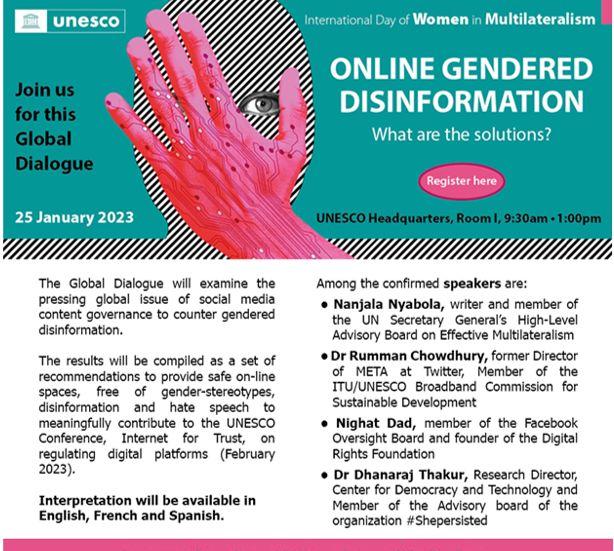 As part of the International Day of Women in Multilateralism, UNESCO is organising a global dialogue aiming to advance effective responses to online gendered disinformation. The results from this global dialogue will be compiled into a set of recommendations to provide safe online spaces, free of gender stereotypes, disinformation and hate speech. This output will also contribute to the UNESCO Conference on regulating digital platforms happening in February 2023.
The event will be moderated by Nadia Massih, a broadcast journalist for France24. Speakers for this event include Audrey Azoulay the Director-General of UNESCO, and H.E Rose Christiane Ossouka Raponda, Prime Minister of Gabon among many other. This event brings together speakers from industry, policy, media, and the non-profit sector. The event will have two panels with one focusing on multilateral action for tackling online gendered disinformation and the second one looking at the road to a model regulatory framework for the digital platforms.
Registration is required for this event.
© UNESCO
Event Details
Digital technology / specialisation
Geographic scope - Country
Industry - field of education and training
Information and communication technologies not elsewhere classified
Geographical sphere
International initiative