EU Recovery and Resilience Plans: towards a greener, more digital and resilient Europe

On 27 May 2020 and in response to the unprecedented crisis caused by the coronavirus, the European Commission proposed the temporary recovery instrument NextGenerationEU, as well as targeted reinforcements to the long-term EU budget for 2021-2027. At the heart of NextGenerationEU, the Recovery and Resilience Facility will make available €723.8 billion to EU Member States (both loans and grants) to support reforms and investments of EU countries.
The Digital Skills and Jobs Platform offers an analysis of National Recovery and Resilience Plans and the main actions of EU Member States in digital skills in a dedicated section. 
Getting it right: making sure EU Member States are fit for the digital age 
The Recovery and Resilience Facility entered into force on 19 February 2021. Closely aligned with the Commission's priorities for the upcoming years, it will finance reforms and investments in EU countries until 2026. Each EU Member State develops a national recovery and resilience plan, describing the reforms and public investment projects they plan to implement with the support of the RRF. Access to funding is contingent on ticking specific boxes: such as dedicating at least 37% of the plan's budget to climate investments and ensuring at least 20% of investments support digital objectives (including digital skills).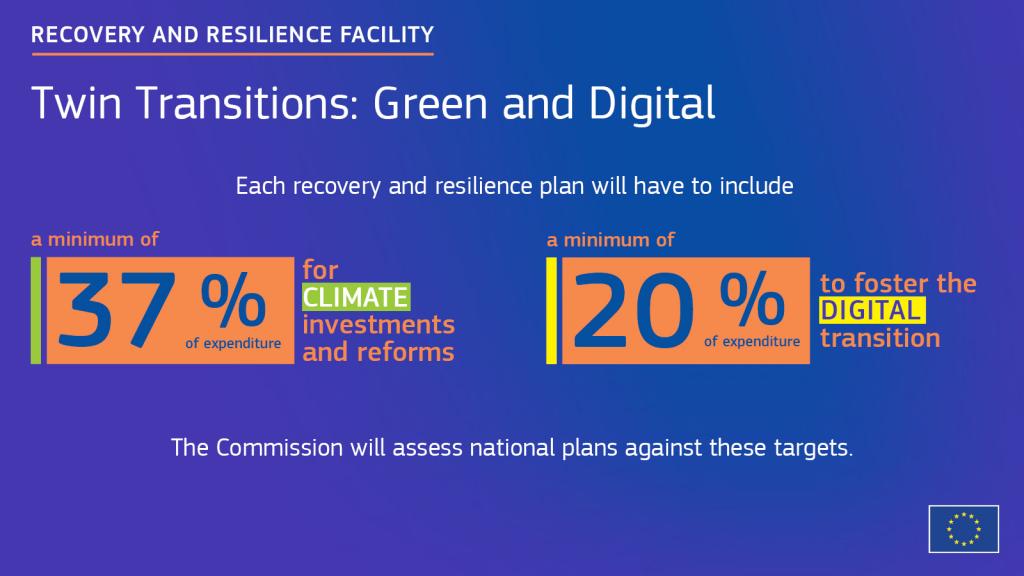 EU countries should have officially submitted their recovery and resilience plans 'as a rule' by 30 April 2021, but this is not a 'real' deadline. The date serves as an orientation, and the Commission has indicated that it will welcome EU Member States' plans until mid-2022. Once submitted, each plan is then assessed based on several criteria and translated into legally binding acts, before it goes to the European Council. This has to happen within 2 months of the submission date - and the Council has another 4 weeks to adopt - and endorse - the Commission's proposal. The Council's approval paves the way for the disbursement of 13% in pre-financing. 
Investing in digital skills: which EU countries plan to spend the most?
Investment in human capital (including basic and advanced digital skills) varies from one EU Member State to the next. Naturally, some countries emerge as leaders, with others following closely behind. Here is how much each plan will spend on advanced digital skills - and how this compares to the rest (and the EU as a whole). 
Frontrunners 
Austria is by far the biggest spender when it comes to ICT skills: 4% of the total budget of the Austrian Recovery and Resilience Plan (approximately 138.7 million) will be dedicated to advanced skills, including digital R&D. This adds up to around 138.7 million, placing Austria on 1st place amongst EU Member States (and well above the EU average of 1.4%). Austria also spends more on human capital: 20% of its digital budget goes towards advanced skills, compared to 17% in EU-27). France's recovery plan also spends three times as much as the EU average on ICT skills: 3.4% (or € 1.325) - placing France on third place. Germany and Finland share the 5th place: approximately 700 million from both plans (between 2 to 2.5% of the total budget) goes towards advanced digital skills and investments in national R&D. They are closely followed by Slovakia, which also plans to spend two times more on advanced skills compared to the EU average (2.4%, or around 152 million). 
Close to EU average 
Lithuania and Italy take places number 8 and 9 in investing in advanced digital skills and digital R&D. Lithuania's plan dedicates 36 million (or 1.6% of its total budget) to this. The same contribution from Italy (in this case, 3.005 million, or 1.6%) will go towards advanced skills. Czechia spends a little above the EU average: 1.5% instead of 1.4%, assuming 10th position amongst EU Member States. Investment in Spain and Latvia is just below the EU average: 0.9%, of the Spanish budget will be dedicated to advanced digital skills and R&D, and 0.6% of the RRP budget in Latvia (or 11 million). 
Lagging behind advanced skills
Investment in advanced digital skills and digital R&D is less of a priority in the recovery plans of some EU Member States. For example, less than 0.5% (around 10 million) from Slovenia's RRP budget will be dedicated to this. Only 0.6% of the Luxembourg RRP budget (or around 0.6 million) will go towards ICT skills. At the same time, Luxembourg spends 19% of its total budget on Human Capital (above the EU average of 17%). Similarly, Belgium spends an amount equal to the EU average on Human Capital, but advanced digital skills will supported by mobilising 0.8% (or 18 million) from the Belgian recovery plan budget. Portugal is one of the lowest scoring EU Member States when it comes to digital skills spending (17th place in Europe) - with only 0.3% or 47 million investment. No explicit mention of budget dedicated to advanced digital skills is evident in the Greek and Cypriot plan - two countries that are also well below the EU average in human capital expenditure. 
Eleven countries out of the EU-27 submitted the plans within the original deadline. Portugal was the first country to submit its national plan to the Commission, followed closely by France, and Slovakia. Denmark, Spain, Latvia, Luxembourg, Belgium, Greece, Italy, Austria and Slovenia followed suit. At the start of June 2021, the number of submitted plans already stood at 23, and as of September 2021, this count went up to 25. On 3 August 2021, Portugal also became the first EU Member State to receive €2.2 billion in pre-financing, meaning that investments and reforms could start in practice.
News details
Digital technology / specialisation
Digital skill level
Basic
Intermediate
Advanced
Digital Expert
Geographic scope - Country
Austria
Belgium
Bulgaria
Cyprus
Romania
Slovenia
Croatia
Czech republic
Denmark
Estonia
Finland
France
Germany
Greece
Hungary
Italy
Ireland
Malta
Latvia
Lithuania
Luxembourg
Netherlands
Portugal
Poland
Sweden
Spain
Slovakia
Type of initiative
EU institutional initiative