Erasmus Mundus Master in Big Data Management and Analytics

The Erasmus Mundus Master's degree in Big Data Management and Analytics (BDMA), previously the Master's degree in Information Technologies for Business Intelligence (IT4BI), is offered by a consortium of five universities. The consortium is made up of the following universities:
About the programme
This Master's programme brings together data management and data analytics skills within a business context to equip students with the skills needed to help develop decision-making strategies for businesses and public institutions alike. Students also learn to consider ethical aspects and horizontal skills needed in European society. Upon completing this degree, students should be able to undertake Business Intelligence (BI) and develop decision-making strategies for both industry and public institutions alike.
This two-year master's programme is taught in English and offers three specialisation options as well as mobility options to their students. During the first three semesters, students will visit three countries and will select where they would like to carry out their Master's thesis in the fourth semester. Below is a visual summary of the programme's semester layout.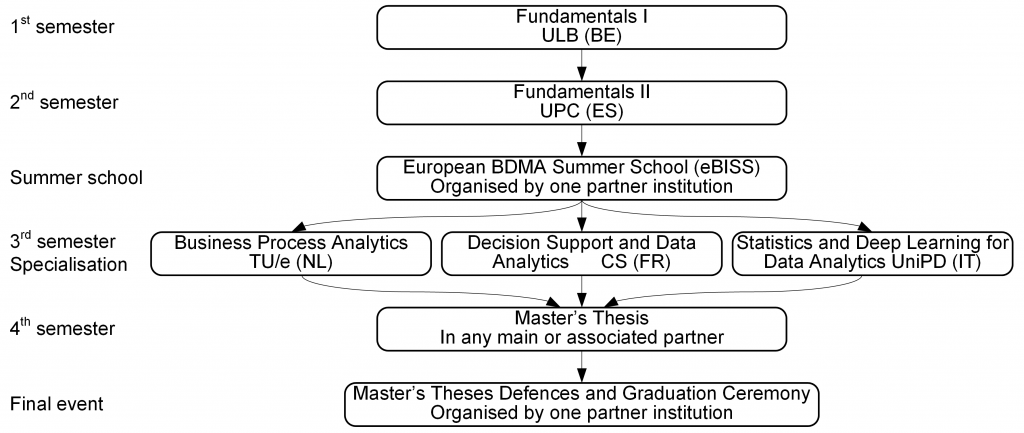 Curriculum
The course content for each semester as well as the location and number of credits per semester is detailed in each section below.
Business Intelligence Fundamentals (ULB, Semester 1, 30 ECTS)
This semester introduces essential topics in BI covering data warehouses, data mining, and business processes. It is made up of the following courses:
Data Warehouses
Data Mining
Business Process Management
Database Systems Architecture
Advanced Databases
Humanities: Foreign Language
Big Data Fundamentals (UPC, Semester 2, 30ECTS)
This semester explores the fundamental concepts to be a Big Data practitioner. The following courses are offered:
Big Data Management
Semantic Data Management
Machine Learning
Viability of Business Projects
Big Data Seminar
Humanities: Foreign Language
Humanities: Debates on Ethics of Big Data
European Business Intelligence and Big Data Summer Schools (Summer after Semester 2)
Students will attend a summer school organised by one of the partner institution. This summer school will provide students with theoretical and practical skills in the domain from leading researchers in the field. More information is available on the Summer School page.
Summer Internship (Summer after Semester 2)
Students are encouraged to undertake a summer internship to acquire a first working experience however this is not mandatory. Students can complete their internship with industrial associated partners.
Business Process Analytics (TU/e, Semester 3, 30ECTS)
This specialisation track focuses on methods, techniques, and tools for the design and analysis of process-aware BI systems. This specialisation offers the following courses:
Business Information Systems
Introduction to Process Mining
Visualisation
Statistics for Big Data
Business Process Analytics Seminar
Humanities: Ethics of Technology
Decision Support and Data Analytics (CentraleSupélec, Semester 3, 30 ECTS)
This specialisation track focuses on models, algorithms, and technologies related to decision-support systems and massive data analytics. The following courses are offered:
Decision Modeling
Advanced Machine Learning
Visual Analytics
Massive Graph Management and Analytics
Big Data Research Project
Business Innovation Management
French Language and European Culture
Statistics and Deep Learning for Data Analytics (uniPD, Semester 3, 30 ECTS)
This specialisation track equips students with advanced Data Science methods and strengthens their background in statistics and Deep Learning. The following courses are offered:
Statistical Learning
Deep Learning and Human Data Analytics
Time-Series Analysis for Business Economic and Financial Data
As part of this specialisation track students will need to choose two of the following courses:
Law and Data
Stochastic Methods
Biological Data
Master's thesis (Semester 4, 30 ECTS)
During the fourth semester, students will put into practice what they have learned over the previous semesters. This can be done with either an industrial partner or a higher education institution.
Final event (Summer after Semester 4)
Students will defend their master's thesis during this event. All main partners, associated partners and industrial organisations will be invited to attend and the main partners will be able to evaluate the students' skills during this opportunity.
Admission requirements
Prospective students of the BDMA programme must hold a Bachelor's degree in computer science from an accredited university. The university must be listed in the World Higher Education Database or must be in the Times Higher university ranking, Academic Ranking of World Universities, or QS World University Ranking. Additionally applicants must be able to demonstrate an English language proficiency equivalent to level B2 of the Common European Framework of Reference for Languages. 
Training Offer Details
Target audience
Digital skills for ICT professionals and other digital experts.
Digital technology / specialisation
Geographic scope - Country
Belgium
France
Italy
Netherlands
Spain
Industry - field of education and training
Information and communication technologies not elsewhere classified
Geographical sphere
International initiative
Typology of training opportunties
Learning activity
educational programme
Is the certificate / credential free
No
Credential offered
Qualification Award