JKU Master's Degree in Artificial Intelligence

About the master's degree
The JKU's Master's Degree in Artificial Intelligence (AI) is focused on equipping students with the expertise and skills needed to be drivers of innovation and development within the sector. This programme focuses on deep learning and learning reinforcement which is a technology that IT giants such as Google, Amazon, Facebook and Apple rely on. Additionally, this programme focuses on identifying opportunities for AI to serve society as well as the dangers it can present. It is a one of a kind Master's programme in Europe and in Austria. 
This Master's programme lasts four semesters and awards 120 ECTS credits. Students will need to be able to attend classes in Linz, Vienna, and Bregenz. This is a full-time programme.
Programme structure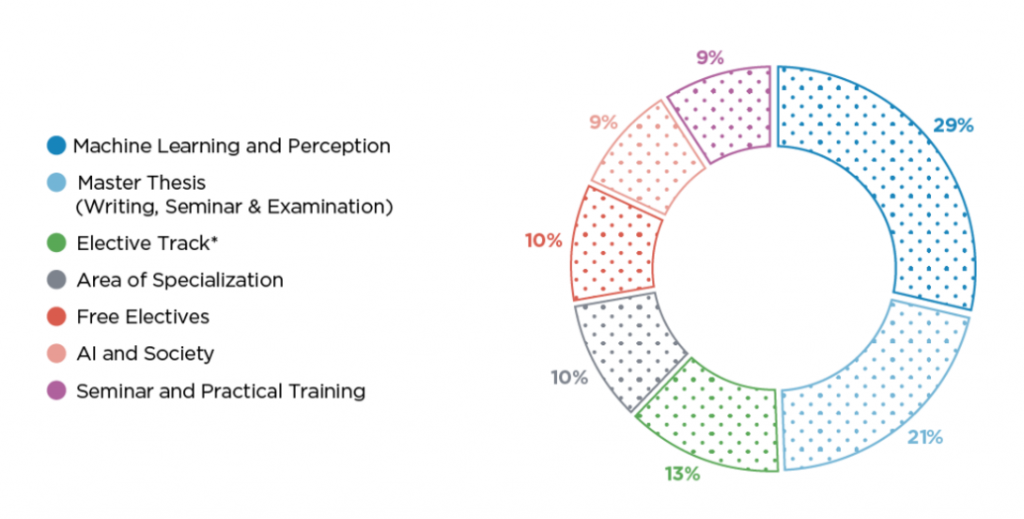 This Master's programme has a focus on modern AI methods in Deep Learning and Reinforcement Learning. The courses offered in this programme cover more than just technical elements and look to the socio-political and legal aspects associated with AI. Students will study four core areas which are:
AI and Mechatronics - Robotics and Autonomous Systems
AI and Mechatronics - Embedded Intelligence and Signal Processing
Reasoning and Knowledge Representation
AI and Life Sciences
Students will also choose an elective track. Based on the selected elective track, students may learn to:
Apply AI Techniques and Autonomous Systems: Computer systems to control robots and their sensors, feedback and information processing, autonomous vehicles, drones, and production systems that function independently from human control
Embed AI in sensors and devices to make machines, production lines and factories even smarter: Use data analysis techniques to optimise maintenance, logistics, planning, and marketing
Apply conventional AI methods based on logic and mathematics to teach machines to reason logically
Apply AI techniques to fields in medicine, biology, biotechnology, genomics, and genetics
Career prospects
Graduates from the JKU Bachelor's degree programme in Artificial Intelligence are highly sought after in business and industry due to their broad set of skills and expertise. Namely they are often sought out in the following sectors:
Information Technology
Manufacturing and Supply Chains
Medicine and Healthcare
Transportation
Admission requirements
Prospective students will need to fill several requirements to be admitted to the Master's programme.
English proficiency: Students will need to prove a B2 level of language proficiency in English if English is not their first language
Academic background: Students who have completed the JKU's Bachelor's degree programme Artificial Intelligence can enrol in this Master's without further admissions constraints. Students who hold an undergraduate degree from the JKU or a comparable degree programme from another university in Bioinformatics, Electronic and Information Technology, Informatics, Mechatronics, NaSciTec, Statistics and Data Science, Technical Mathematics, Technical Physics, Business Informatics will need to take a 9 ECTS credits class in Machine Learning and Statistics. Students who hold other undergraduate or Diploma degrees can be admitted to the Master's programme and will need to take an additional 40 ECTS credits of classes during the programme. 
Training Offer Details
Target audience
Digital skills for ICT professionals and other digital experts.
Digital technology / specialisation
Geographic scope - Country
Industry - field of education and training
Information and communication technologies not elsewhere classified
Geographical sphere
National initiative
Typology of training opportunties
Learning activity
educational programme
Is the certificate / credential free
No
Credential offered
Qualification Award