SECCLO Master's Programme in Security and Cloud Computing

The SECCLO Master's Programme in Security and Cloud Computing is an Erasmus Mundus Joint Master Degree bringing together a consortium of universities and educational institutions in Europe. Led by Aalto University, the consortium consists of:
The consortium also works with industry partners to provide internships, thesis positions, company visits and contributions to the course content. 
About the programme
SECCLO is an Erasmus Mundus Joint Master Degree programme focusing on information security and cloud computing. Through this programme, students will gain practical engineering skills through a research-based curriculum. SECCLO aims to train professional engineers who can innovate and build the next generation of cloud and mobile computing services and applications. 
This two-year programme is taught in English and students will have the opportunity to specialise in an area of interest to them in their second year. This specialisation will dictate which university they attend in their second year.
Study programme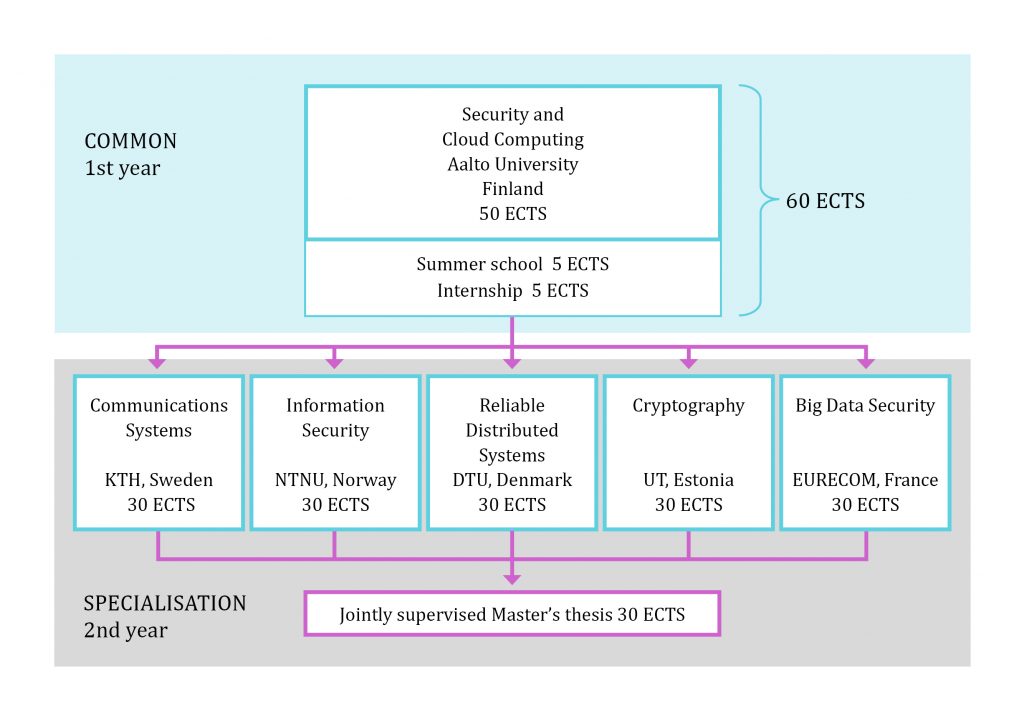 As detailed above, students will spend their first year at Aalto University and follow a common curriculum on Security and Cloud Computing. They will also have to attend a one-week summer school where new topics in the information security field will be presented and students will be able to network with each other before they move into their second year. Students will also need to complete a summer internship at one of the programme's industry partners or in an applied research project prior to beginning their second year of studies. 
The first year curriculum will cover fundamental concepts, methods and latest technologies on secure systems engineering, distributed application development, network and service architectures, ubiquitous computing, cloud and mobile computing platforms. Students will also be able to choose specialised courses on topics such as network and mobile platform security, computer networking, verification, and data mining. More information on the first year curriculum can be consulted.
The second year curriculum is offered by five universities with the final semester dedicated to the Master's thesis. The table below details the specialisations and the university offering the specialisation track.
| | |
| --- | --- |
| Institution | Specialisation track |
| The Royal Institute of Technology (KTH) Sweden | Communications Systems |
| The Norwegian University of Science and Technology (NTNU) | Information Security |
| Technical University of Denmark (DTU) | Reliable Distributed Systems |
| University of Tartu, Estonia | Cryptography |
| EURECOM (co-delivered with Institut Mines Télécom), France | Big Data Security |
The detailed curricula per specialisation can be found on the SECCLO page about the second year curriculum.
Requirements
The SECCLO programme sets out the following admissions requirements: relevant academic background, academic performance, recognition and quality of institution, motivation and commitment to SECCLO, other relevant achievements and English language proficiency.
In regards to the relevant academic background, applicants should have studied one of the following subjects:
Mathematics (linear algebra, calculus, probability theory, statistics, and discrete mathematics)
Programming
Algorithms and data structures
Databases
Theory of computation
Computer networks
Web software and online services
Software engineering
If applicants have also studied some of the following subjects, this will be an advantage to their application:
Additional knowledge of mathematical methods
Cryptography and its mathematical foundations
Mobile applications
Operating systems
Distributed computing
Cloud computing and big data
Embedded systems
Advanced computer networking
Machine learning and data mining
Information security
Alongside an applicant's academic background, their overall academic performance will be taken into consideration. Additionally, an applicant's home university recognition will impact how their academic performance is evaluated. Applicants will also need to detail their expectations of the SECCLO programme, career aspirations, relevant experience and achievements. Should an applicant already hold one Master's degree, they will need to express why another one is necessary. In regards to the English language proficiency, a strong test result will further support an application.
Training Offer Details
Target audience
Digital skills for ICT professionals and other digital experts.
Digital technology / specialisation
Geographic scope - Country
Denmark
Estonia
Finland
France
Sweden
Norway
Industry - field of education and training
Information and communication technologies not elsewhere classified
Geographical sphere
International initiative
Typology of training opportunties
Learning activity
educational programme
Is the certificate / credential free
No
Credential offered
Qualification Award