Shaping DIGITAL transformation with and for all
Event location
Holandská 669/1, 101 00 Praha 10-Vršovice, Prague, Czechia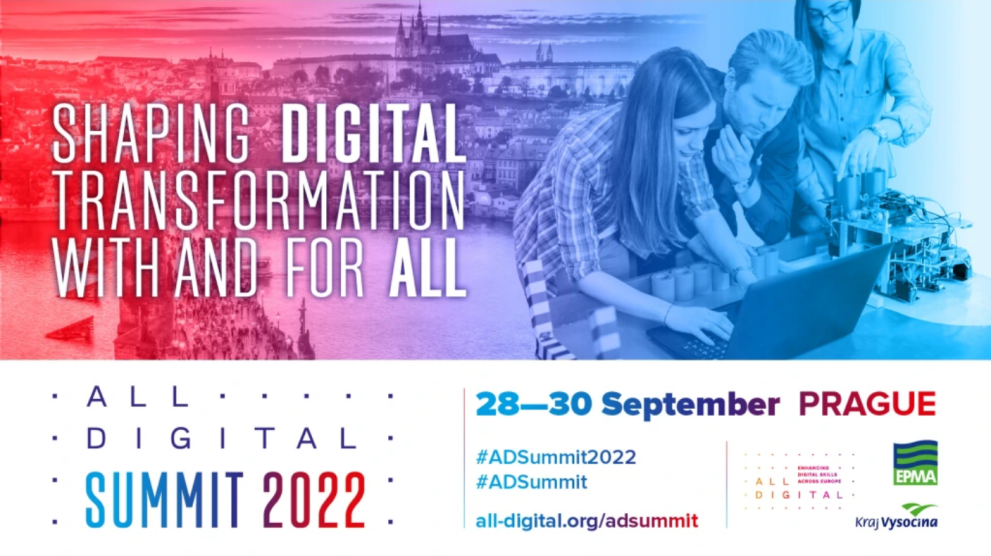 The ALL DIGITAL SUMMIT 2022, organised on 28-30 September 2022 in Prague is titled "Shaping DIGITAL transformation with and for ALL'' and is going to include high-level keynote speeches, panels, workshops and informative sessions.
Policymakers, digital education stakeholders, civic society and industry representatives will gather in Prague, after 2 years of online meetings, to get the latest insights on policy actions, innovation and projects related to digital skills, education and upskilling/reskilling.
Interesting networking opportunities will be guaranteed in a lively context with more than 150 participants to allow them to connect and exchange ideas.
The Summit focuses on what digital transformation implies in the digital skills sector and its impact on education, especially on the must-to-have skills in modern societies.
The events will also present lessons learnt from the recent past on how to enhance digital skills across Europe through education, learning and training – in particular in the non-formal sector.
© ALL DIGITAL
Event Details
Target audience
Digital skills in education.
Digital skills for all
Digital technology / specialisation
Geographic scope - Country
Austria
Belgium
Bulgaria
Cyprus
Romania
Slovenia
Croatia
Czech republic
Denmark
Estonia
Finland
France
Germany
Greece
Hungary
Italy
Ireland
Malta
Latvia
Lithuania
Luxembourg
Netherlands
Portugal
Poland
Sweden
Spain
Slovakia
Industry - field of education and training
Generic programmes and qualifications not further defined
Geographical sphere
EU institutional initiative