5 key factors to create successful digital skills initiatives
Where is Spain on the road towards the digital transformation?
The lack of technological knowledge remains a challenge for Spain – close to half of Spanish companies  experience difficulties in recruiting suitable digital talents. The hardest-to-find technology-related profiles are those linked to data analytics, cloud computing, and application development. There is still room to improve, since 49% of Spanish companies do not offer any (re)training programmes for their workforce. 
According to the 2022 Digital Economy and Society Index (DESI) report, 46% of people in Europe still lack basic digital skills. On human capital, Spain ranks 10th among the 27 EU countries, slightly above the EU average (45,7%). The rate of people in Spain having at least basic digital skills is above the EU average (64% compared to 54%) and has significantly increased during the last years. Despite this progress, the shortage of ICT specialists is still a problem (especially for SMEs), and women are underrepresented, accounting for less than 20% of all ICT specialists.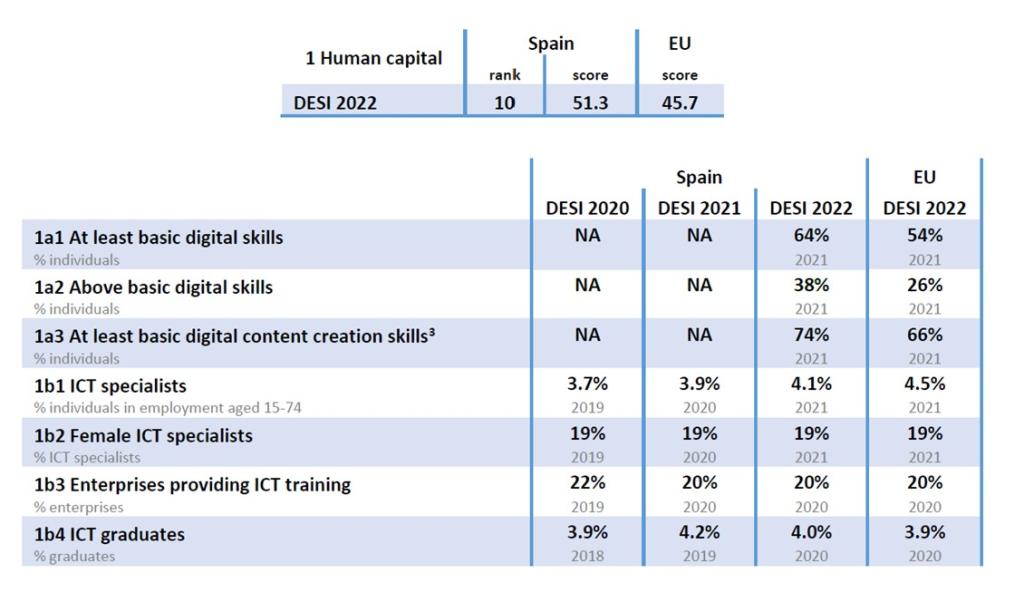 Figure 1 - Spain in DESI 2022, Human Capital Dimension
The digital transformation makes it possible for new business models, products and services to emerge and provides an opportunity for Spain to grow to Spain 4.0, amongst the leaders in the digital transformation in Europe, and in the world.
Education and training as key for the digital transformation
To achieve the digital transformation, resources and infrastructures are necessary — but the main enabler is people. For AMETIC, the voice of the digital industry in Spain, it is important to promote digital skills, as well as quality employment. AMETIC has been the coordinator of the national coordinator of Spain for the Digital Skills & Jobs Coalition for more than 5 years now, and is responsible for the implementation of the ESSA (European Software Skills Alliance) project.  
There is currently a digital skills gap in Europe, hampering the digital transformation: and digital skills are now needed for more and more professions. To remedy this, education and training provision needs to reflect closer the current reality of the labour market. Involvement of all stakeholders (companies, the training sector, universities, and the public sector) is also key to boosting training on digital skills.
Concrete examples to bridge the digital skills gap: 5 tips by AMETIC
As a first step, education must be treated as a priority for current and new generations. Lifelong learning in education, together with company-launched training can help workers adapt faster to the changing digital environment. 
Digital skills should fill the market needs and become embedded in formal education and vocational training. A catalogue of university and VET degrees that correspond to the needs of the digital society can help to achieve this. Improved collaboration between education and business would also ensure training curricula and employee training evolve together with digital technologies – and with the same speed. 
Fostering employees' attitudes to learning is also key. This means promoting active employment policies in the workplace throughout the working life of the employees (especially those related to skilling, reskilling, and upskilling) to ensure workers have the skills most in demand. Tailored career paths are also a proven way to improve employees' skills, bringing benefits to the organisation and workers' professional development. 
Working together by promoting public-private collaboration is a win-win for all. Activities to bridge the skills gap in digital is a responsibility of governments and cannot be achieved without involving various stakeholders in finding the right solutions. We also need to make sure environmental sustainability is embedded within all job roles and promote internal environmentally friendly policies to support the twin digital and green transition.
Finally, people need to know the job profiles most in demand – and have role models they can follow. This includes raising awareness of STEM vocations and instilling engineering skills in our youngsters via various tech-inspired educational programmes and activities. Experts in key areas like cybersecurity, AI, cloud, IoT or Big Data can make excellent role models for students about to finish their degrees and promote the importance of tech careers.
Towards more women in tech
The road to a gender-balanced work environment starts at school. We need to put a special focus on young girls and embed tech content that reflects the latest digital trends – starting from primary education. This goes hand in hand with awareness raising, promoting trust in digital, and laying the foundations of an entrepreneurial culture. 
There is more creativity in science and technology than people give credit for. We should perceive careers in tech not only as a way to learn about technology but also as a way to innovate – and why not solve the world's biggest challenges?
About Amalia Pelegrín Martínez-Canales
Amalia Pelegrín Martínez-Canales is Director of Digital Policies, Sustainability and Talent at AMETIC, the association that represents the digital industry in Spain. She holds a Law Degree from the University of Murcia, a Master's in Business Legal Advice and an Executive-MBA, in both cases from the Instituto de Empresa. She began her career as a lawyer at Anguiano & Asociados, a firm specializing in Information Technology and Telecommunications Law, after which she joined the legal department of Andersen Consulting (now Accenture) as head of the Outsourcing area.
In 1999, she joined ONO, a cable telecommunications company, in which she performed various positions such as Head of Regulatory Issues, Deputy Director of Public Affairs, Director of Shareholder and Investor Relations, and served as Deputy Secretary for the Board of Directors.
About AMETIC
AMETIC is the voice of the digital technology industry in Spain. Its members are companies of all sizes and include large digital IT, Telecommunications, Electronics, Services and Digital Content companies, leading companies in digital transformation as well as sector associations. The vision of AMETIC is to have a society that benefits from the opportunities offered by digital technology in Spain, as they consider this sector to be the main driver for achieving economic and social objectives.

© Blue Planet Studio - stock.adobe.com
Opinions details
Digital technology / specialisation
Geographic scope - Country
Geographical sphere
International initiative