Championing Digital Talent: Meet the Finalists of the European Digital Skills Awards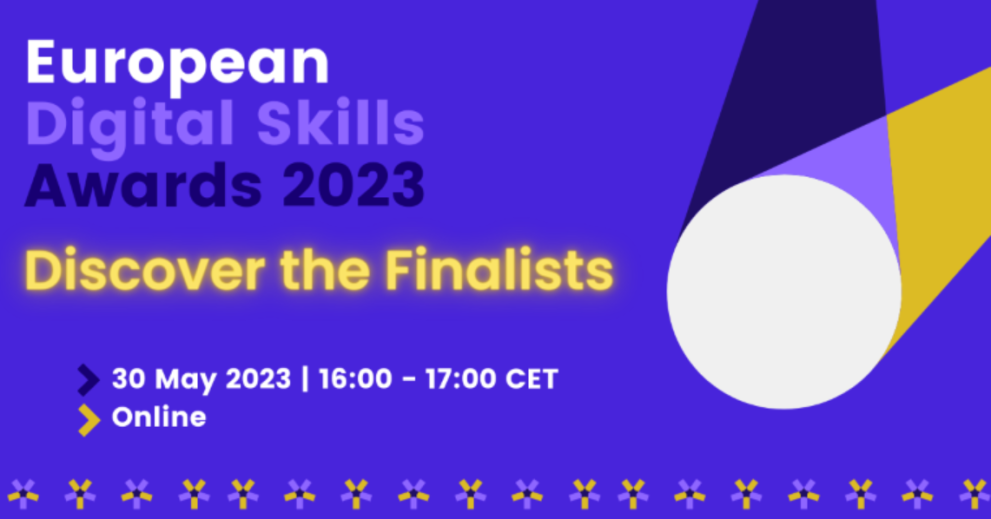 It is a good year to restart the European Digital Skills Awards, in celebration for the 2023 European Year of Skills which has just been launched! The European Year of Skills puts skills centre-stage, to support people to get the right skills for quality jobs and helping companies, in particular small and medium-sized enterprises, addressing skills shortages in the EU and reach the Digital Decade and Digital Sovereignty objectives.

Who will be the finalists? Tune in on Tuesday 30 May from 16:00 to 17:00 CEST to this webinar, get ready to be inspired by a lineup of exceptional initiatives and discover which ones will potentially be the winners of the European Digital Skills Awards!
How many people did you train in digital skills last year? 

The European Digital Skills Awards 2023 want to recognise and promote the projects and initiatives that are supporting Europeans in all areas related to digital skills. From basic skills, such as using a computer or a tablet, to training ICT specialists in emerging technologies like AI, Blockchain and Data, there is a very lively crowd of organisations, trainers and teachers that are helping Europeans grow in digital. The objective of the Awards is to showcase those good practices and help everyone learn from one another.
More than 300 applications were received among all the categories, representing the excellence of the thousands of experts and trainers that are currently helping Europeans acquire the necessary digital skills for everyday life and work. 

The applications were presented in the following categories: 
Empowering Youth in Digital - projects to attract the younger public to ICT professions, media literacy initiatives for the younger public, emerging technologies courses for the younger public, hackathons etc 
Last but not least, during the event, there will be a showcase of the best initiatives that committed to have a positive impact for Ukraine and for its people during this time of unprecedented challenges.
A big thank you to the all of the initiatives that participated and to everyone connected!
You can check out all the slides presented during the event at the following link: Event Slides.

You have missed some parts or want to rewatch the event? You can find the recording here on the DigitalEU Youtube channel!
Event Details
Target audience
Digital skills for the labour force.
Digital skills for ICT professionals and other digital experts.
Digital skills in education.
Digital skills for all
Digital technology / specialisation
Geographic scope - Country
Austria
Belgium
Bulgaria
Cyprus
Romania
Slovenia
Croatia
Czech republic
Denmark
Estonia
Finland
France
Germany
Greece
Hungary
Italy
Ireland
Malta
Latvia
Lithuania
Luxembourg
Netherlands
Portugal
Poland
Sweden
Spain
Slovakia
Industry - field of education and training
Inter-disciplinary programmes and qualifications involving education
Inter-disciplinary programmes and qualifications involving Information and Communication Technologies (ICTs)
Geographical sphere
EU institutional initiative