Denmark
Denmark ranks fifth in the Human Capital dimension of the Digital Economy and Society Index (DESI), demonstrating its strong digital skills and training initiatives. The country outperforms the EU average in basic and advanced digital skills, as well as in the proportion of businesses providing ICT training. However, there is a challenge in filling ICT specialist vacancies reported by businesses. Denmark also excels in the connectivity dimension, with high household connectivity rates and strong e-government use. 
Denmark has comprehensive state strategies in place to drive digitalization. The National Strategy for Digitalization encompasses both the public and private sectors, focusing on cybersecurity, coherent services for individuals and businesses, welfare through technology, and international digitalization. The Digital Growth Strategy 2025 aims to improve digital skills among children, bridge the skills mismatch, and enhance access to skills training for SMEs. The Joint Government Digital Strategy addresses significant societal challenges and promotes digital inclusion. 
In terms of national initiatives, Denmark's Recovery and Resilience Plan invests a significant portion of the budget in digital measures, supporting the digital transition of SMEs and the public sector. Initiatives include tax incentives for digital investments, expanding rural broadband coverage, and digitalizing healthcare. The plan also emphasizes public sector digitalization, cybersecurity, and artificial intelligence. 
Other initiatives in Denmark include the ReDI School of Digital Integration, providing coding education to locals and newcomers, and the Network for Digital Inclusion, which supports digitally challenged residents. The Danish Government Digital Academy equips civil servants with the necessary skills for a digital public administration. 
Score in DESI Report Human Capital
The latest trends in digital skills in Denmark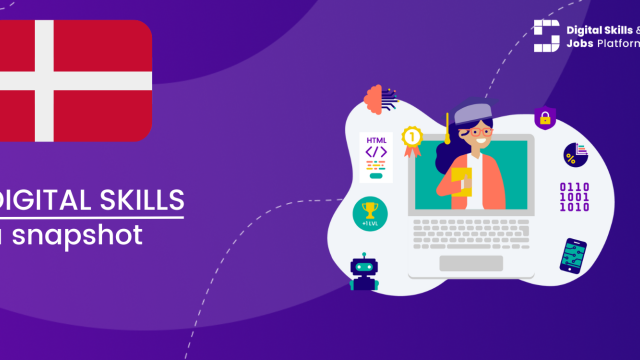 An overview of state strategies and national initiatives on digital Skills in Denmark: state strategies, national strategies and funding opportunities.
Good practices in Denmark