EU-Africa partnership: enhancing digital learning for all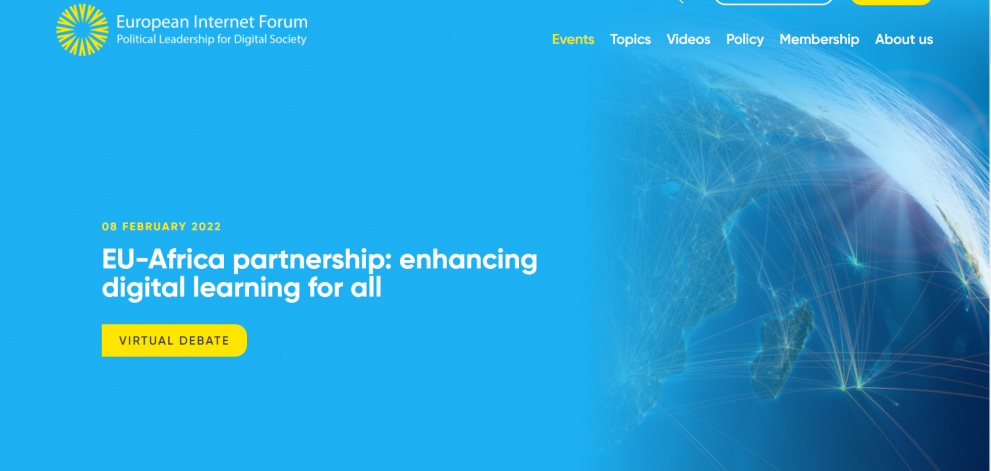 Ahead of the EU-African Union Summit and Business Forum from 15-18 February 2022, the European Internet Forum is hosting a debate, which will take place on 8 February 2022, 11:30 – 13:00, on how to improve the partnership between the European Union and Africa, regarding education, digital learning, and skills.
The discussion will address questions of digital transformation, digital inclusion, and best practices: How to bridge the digital divide, including in its gender component? How can we support youth employability? How can we support technological entrepreneurship? How to provide access to digital and entrepreneurial skills? The event will be an opportunity to present a few ongoing projects in this regard and discuss together concrete means to move the cooperation forward.
Programme
Opening remarks
Maria da Graça Carvalho, MEP and EIF Steering Committee Member
Speakers
EU delegation in Côte d'Ivoire – invited
Joint-presentation from Asma Ennaifer, Director of CSR, Communication and Orange Digital Center, Orange Africa and Middle East & Toni Kaatz-Dubberke, Project Lead Strategic Alliance Orange Digital Center, Deutsche Gesellschaft für Internationale Zusammenarbeit (GIZ) GmbH
Siobhan Lynch, Program Director, iMlango
Kiarie Kamau, Managing Director & CEO, East African Educational Publishers Limited
Moderator
Maria Rosa Gibellini, Director General, European Internet Forum
Exchange of views with the participants under the Chatham House rule.
 
Event Details
Target audience
Digital skills for the labour force.
Digital skills for ICT professionals and other digital experts.
Digital skills in education.
Digital skills for all
Digital technology / specialisation
Geographic scope - Country
Austria
Belgium
Bulgaria
Cyprus
Romania
Slovenia
Croatia
Czech republic
Denmark
Estonia
Finland
France
Germany
Greece
Hungary
Italy
Ireland
Malta
Latvia
Lithuania
Luxembourg
Netherlands
Portugal
Poland
Sweden
Spain
Slovakia
Albania
Belarus
Bosnia and Herzegovina
Canada
Iceland
Israel
Japan
Kosovo
Montenegro
Morocco
North Macedonia
Norway
Serbia
Switzerland
South Korea
Russia
Tunisia
Turkey
Ukraine
United Kingdom
USA
Industry - field of education and training
Generic programmes and qualifications not further defined
Geographical sphere
International initiative