Pledges for digital skills – your commitment to up- and re-skilling!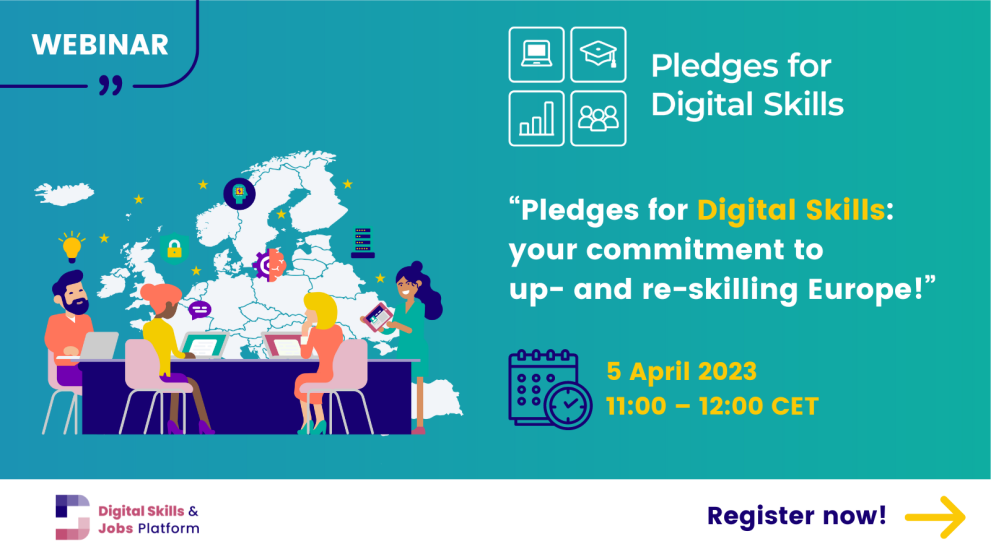 The ongoing digital transformation of the economy and of society requires that all Europeans acquire and develop digital skills. A large talent pool of digital experts is also necessary to develop and deploy cutting-edge digital technologies such as AI, cybersecurity, Internet of Things or blockchain in every sector of the economy. The Path to the Digital Decade sets out the concrete digital targets which the European Union aims to achieve by the end of the decade, as first outlined in the Digital Compass Communication. The EU aims to train 20 million ICT Specialists (with equitable participation of men and women) and that 80% of the population have basic digital skills. 

In this policy framework, the Digital Skills & Jobs Platform has launched its initiative on Pledges for digital skills. A Pledge is a "commitment made on top of the core field of activity of an organisation, big or small, private, public, or non-profit, to make a concrete contribution, free of conditions to the beneficiaries, to reduce the digital skills gap in Europe". By making a pledge, organisations can commit to equip European employees, unemployed, ICT specialists, teachers, students, or elderly people, with the skills they need to live and work in the digital age. 

The main objective of this Webinar was to inform interested organisations on why and how they can become pledgers on the Digital Skills & Jobs Platform and inspire them through previous good practices that were successfully submitted and implemented. 
The first part of the Webinar was devoted to the presentations made by active pledgers that have achieved tangible milestones, who shared their commitments and experience within the initiative. Please find below the list of participating speakers, their pledges and the links to their slides:

The second part focused on a presentation on the steps involved in the submission of Pledges on the Platform. You can access the full presentation here.
Recording of the event
The recording of the whole webinar is now publicly available on the DigitalEU YouTube Channel! You can watch it at this link.
Event Details
Target audience
Digital skills for the labour force.
Digital skills for ICT professionals and other digital experts.
Digital skills in education.
Digital skills for all
Digital technology / specialisation
Geographic scope - Country
Austria
Belgium
Bulgaria
Cyprus
Romania
Slovenia
Croatia
Czech republic
Denmark
Estonia
Finland
France
Germany
Greece
Hungary
Italy
Ireland
Malta
Latvia
Lithuania
Luxembourg
Netherlands
Portugal
Poland
Sweden
Spain
Slovakia
Industry - field of education and training
Education not further defined
Information and Communication Technologies (ICTs) not further defined
Inter-disciplinary programmes and qualifications involving Information and Communication Technologies (ICTs)
Geographical sphere
International initiative