Digital Skills and Jobs Digest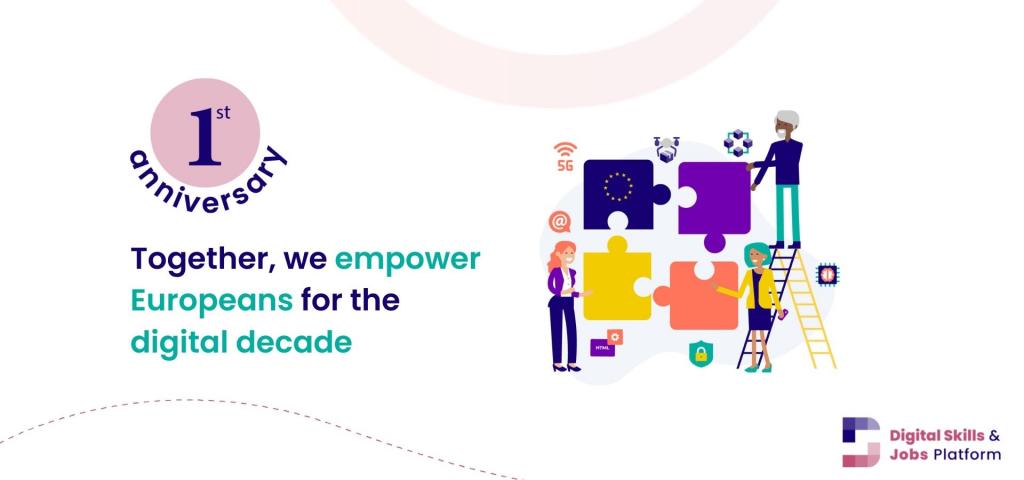 JOIN US TO CELEBRATE THE PLATFORM'S FIRST ANNIVERSARY
One year ago, on 20 May 2021, the Digital Skills and Jobs Platform went online with the ambition to become the one-stop-shop for everything related to digital skills in Europe. It's been a busy year! With over 4000 registered users, over 1400 articles published, including more than 200 training opportunities, 50 good practices and around 300 resources and publications, the Platform today is the Home for digital skills, empowering Europeans for the digital decade. 

For the very first time, the Platform and 25 National Coalitions for Digital Skills and Jobs are working together to bring to you a series of in-depth webinars, high-quality articles, good practices and outstanding stories under the #Me4DigitalDecade campaign. 
Our community space also offers 3 discussion groups on Digital Reskilling and Upskilling, Recovery and Growth, Advanced Digital Skills where you can share your experience, good practices, pitch and learn from others. 
In this occasion, we would like to thank you: community members and readers. You made the Platform's first year a great journey, and we look forward to continuing this together!
Stay up to date with the anniversary activities and stories
---
GET INSPIRED BY GOOD PRACTICES IN DIGITAL SKILLS
Are you looking for some successful examples of initiatives, projects or programmes in digital skills? We have a rich catalogue of good practices selected from around Europe, with a variety of topics and target audiences. Here are some fresh inspiring examples:
---
TRAINING OPPORTUNITIES IN DIGITAL RESKILLING AND UPSKILLING
Looking for a training to reskill or upskill yourself for the digital age? Check out some opportunities below! More trainings can be found in the Platform's training catalogue.
---
WEBINAR ON 24 MAY: TEAMING UP FOR DIGITAL SKILLS
Are you a company finding a way to effectively collaborate with public authorities in digital skills, or vice versa? Don't miss our webinar on 24 May! It will explore how public authorities and companies work together to digitally upskill population.
You will learn about successful examples of public – private partnership in delivering digital skills actions, and discuss how these collaborations contribute to the Digital Decade's targets.
---
SHARE YOUR STORY: ACCELERATING DIGITAL TRANSFORMATION THROUGH RESKILLING AND UPSKILLING
The first in the series of new discussion groups focuses on how to accelerate digital transformation through reskilling and upskilling.
Are you working on a strategy, programme or initiative in digital skills that has helped people and organisations reskilling and upskilling for the digital decade? We would love to hear from you!
Join the group, share your story & learn from others!
---
THE 4 CEF MASTERS ON ARTIFICIAL INTELLIGENCE ARE OPEN FOR REGISTRATION 

The 4 Master programmes on Artificial Intelligence funded through the Connecting Europe Facility (CEF) are currently all open for registration for the next academic year. It's a unique chance to acquire a highly sought digital skill set on a wide choice of topics. 
AI4Gov, Artificial Intelligence for Public Services is already a "veteran", since this will be its second edition. It aims at forming public administration professionals who can fully exploit the potential of AI for governmental services. 
HCAIM, Human Centred Artificial Intelligence focuses more on the ethical challenges of the use of AI, on how to build and apply it, and how to deal with the societal choices that come with it. 
In addition, with a focus on ethics, but combined with a strong entrepreneurial approach, the AI Masters of the MAI4CAREU project are going to foster the creation of AI startups in Europe.
Last but not least, the topic of AI for the Health sector will be at the centre of the Xaim MSc program. The Explainable AI in healthcare management students will work at the intersection of Data Science, AI and Healthcare.
In our special section dedicated to the CEF Masters initiative you will also find an opinion post by Elpida Keravnou-Papailiou from the University of Cyprus, who is Academic Coordinator of the CEF master's programme MAI4CAREU in AI.
---
DATES NOT TO MISS
---
JOIN THE DIGITAL SKILLS AND JOBS COMMUNITY
In the past year, our community has been a space where over 4000 members from across Europe come to network and exchange experience, stories and opinions on different topics related to digital skills. We are growing and we want to hear from you! 
---

---
Want to unsubscribe?